Polyester Floor Pad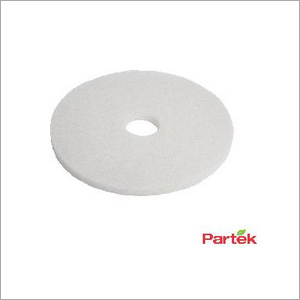 Polyester Floor Pad
Product Description
Floor Pads
Our company is one of the foremost Manufacturer and suppliers of wide range of Polyester Floor Pad. Available in different sizes and colors, these pads are in compliance with industrial standards. For burnishing, stripping, cleaning and scrubbing purposes, these pads are widely used in hotels, restaurants and homes. Before the end dispatch, Polyester Floor Pad are thoroughly tested on well defined parameters like dimensional accuracy, strength and durability to ensure the quality of products. These pads are capable to soak water easily and demanded due to their superior quality and precise dimensions.
Frequently Asked Questions
1. What purpose do floor pads serve?
Ans - They are frequently employed for spray cleaning, in which the floor is first treated with a cleaner or floor preserver before being polished with a red or tan pad.
2. What kinds of floor pads are there?
Ans - Cleaning and scrubbing pads can be used with both floor scrubbers and floor machines. Lighter hues like white, red, and pink are used for cleaning pads. Darker hues, such as dark green or dark blue, are more common in scrubbing pads. Stripping pads are abrasive and resistant to chemicals.
3. How are floor mats cleaned?
Ans - After each use, pads must be cleaned. Avoid soaking pads in washing or stripping agents as this can eventually cause the binder to break down. For the purpose of removing soil and finish from the pad, use a hose with a garden nozzle and hot water. It's crucial that you prevent soil or finish from drying on the pad.